Situation/Problem
Our client is one of the top 5 pharmaceutical companies in the Middle East Africa region who is committed to sustain their long-term presence in the region and support the community through investing in the continuous education of healthcare professionals including scientific non-promotional meetings, investing in research and local data generation, and improving patient outcomes through providing patient support programs. They approached VCL-part of TTM associates group with the need to fulfil the business needs of catering for the future of work and upskilling the employees across the organization towards building the essential capabilities that would help the organization thrive and prosper. As all businesses, the COVID-19 pandemic caused an abrupt change in the way people work but it hit the medical reps really hard.
Client Needs
It is well known that the pandemic of COVID-19 caused a major disruption especially in the Healthcare sector, the business has been transformed into digital and innovative proposition that aims to establish competitive and robust operating model in order to tackle the challenges that Healthcare  industry is facing in the current era, current customer engagement strategy can no longer be driven by reach and frequency, but by the value added at every interaction and touchpoint, there is a fundamental need across all biopharmaceuticals to fundamentally realign how they engage with customers
VCL Solution
The COVID-19 pandemic is an opportunity to shift from a traditional approach in value delivery to inventing new approaches to solve existing and emerging problems and shift their mindset to think differently. VCl understood the customer journey has been disrupted with many organizations and employees kept struggling to cope and to unveil the maze of the new Low-Touch economy.  The good news is that what hasn't changed is the value that physicians gain from trusted relationships with their sales reps. In many instances, reps must attempt to recreate this type of in-person interaction and connection to re-engage with physicians and build ongoing relationships with them. The challenge lied in how pharma companies engaged  physicians in a pandemic environment and move beyond "selling". The underpinning issue here is how to reinvent value delivery from a legacy (before COVID-19) system and transform it into a new, dynamic operating system (that sustains customer value and digitimacy)and realign with the way the customer interfacing people engage their HCPs
TTM/VCL delivered an impactful journey that is made of 3 primarily parts as illustrated below:
Outcome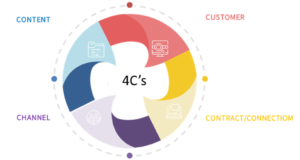 The 4Cs model we have offered in client engagement, has been covered in a stepwise approach, it  focused on achieving a winning positive mindset by redefining HCP engagements in the new normal, the team learned how to reconfigure current customer targeting strategies, redefined and mapped the dynamics of the new pharma ecosystem through the 4C's model "shown below"(customer-content-channel-communication) in HCP value reinvention Pharma companies can gain real-time and predictive insight into the needs and preferences of physicians. They can base their outreach on dynamic microsegmentation and precision targeting informed by knowledge of each physician's characteristics and behaviors, areas of interest, and preferred channels and timing for communications. This information can be generated from a statistical analysis of engagement data, both face-to-face and virtual, as well as from digital marketing data. 
VCL's  4Cs model in client engagement focused on engaging HCPs with the right contents and through the proper channels to deliver, via patient engagement platforms or services, customized, modular communications that provide doctors with medical information and offers of assistance. Companies can also provide value-added offers, such as support for physicians' efforts to digitize their own engagements with patients, Furthermore, it widened their dimensions to perform efficiently in their roles, develop unique and efficient techniques that has driven their organization to new successes, and created a positive work culture and positive influence in enhancing overall employees' engagement with their customers, We are already seeing how enhanced engagement brings benefits for customers, patients, and pharma brands.